*x-posted from my journal*
mods, if this is not allowed.. kindly delete this post. :) thank you!
hey im selling my acoustic guitar :)
i already got rid of my first acoustic guitar i got from my uncle and now im selling my second guitar.
(
behind the cut
Collapse
)
and another reason why im selling it is because my guitar teacher (kuya benjo) advised me not to play any acoustic guitar from now on especially if i want to focus on shredding (fast plucking/picking). i'm only allowed to play electric or classical(nylon) guitars (i'll have 3 guitars - 2 electric, 1 classical - once i sell this acoustic).
again,
my acoustic guitar is for sale.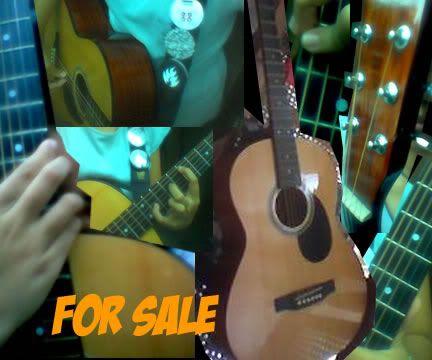 click for the friendster classifieds version
this guitar is
good
.
it's a
durango acoustic guitar made in china
.
(
yeap, hindi lang electronics ang made in china
)
i was surprised when i learned that it was made in china. i never thought that chinese guys would make good instruments :P hehe
anyhow, i bought it
2 years
ago because of its warm tone. it
sounds good
and still
looks good
too. i clean the guitar with pledge. the
shine
is still there and although it has some scratches, it still
looks new
(thanks to pledge.. hehe). :) i only changed this guitar's strings twice (using
d'addario strings
)
it comes with a
soft case
and the good thing about this guitar is that it has
d'addario exp (extended play) light phosphor bronze acoustic guitar strings
. these strings are one of the
best strings
for an acoustic guitar. it costs around 750php [more expensive than the electric guitar strings! (which would cost around 300-450php)]. :P
the price: 4k, negotiable
for more details, you could just post a comment on this entry or you could im me on ym (id: daphne_pretty).
thanks! :D